Purpose
The purpose of this softball pitching drill is to increase the strength of the arm, endurance, and accuracy.
Breakdown
Have your pitcher start at the pitcher's mound and throw two pitches.
If she can throw it to the target with ease, she backs up two steps and throws one to two pitches.
Again, if she can throw it with ease, she should back up two more steps and throw again.
She should continue to progress through this until she struggles to get the ball to her target.
She will continue to back up into centerfield if that's what it takes.
Once she reaches her maximum, then she stops and does 25-50 repetitions.
Video Demonstration
Tips
Throughout this drill – and all softball pitching drills – your pitcher should remember to stay on her power line, to work on her mechanics and her spin.
When we refer to the spin, we mean this: The ball comes in, hopefully, on a 12/6 rotation—as on a clock, twelve o'clock being on top of the clock, and six o'clock being on the bottom, the ball will have a tumbling effect in line with those two numbers.
Recommended: Softball Pitching Skills and Drills eBook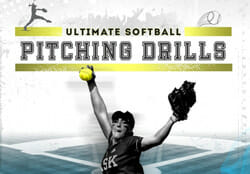 The Ultimate Softball Pitching Drills eBook is packed with 29 innovative pitching drills that show you exactly how to develop a picture-perfect pitch.
All explained with step by step instructions, illustrations, diagrams, and coaching tips.
Everything is easy to learn and simple to teach. So you can start using these drills TONIGHT (even if you're new to coaching).
Click here to get instant access over your computer or mobile device.